Guide to Save Thunderbird Email as PDF Documents
In general, Mozilla Thunderbird provides an option to save multiple emails in EML format but, not in portable (PDF) file format. However, there is a query generally asked by Thunderbird users that how to save Thunderbird email as PDF? Such users are going to get a solution to this question with help of this post. It includes usage of a free add-on i.e., ImportExporttools NG.
Way to Save Thunderbird Email As PDF file
Go through the following set of instructions to locally save Thunderbird emails on hard drive in PDF file format:
Step 1: Download ImportExportTools NG (a free Thunderbird add-on) from its official website. Then launch the Mozilla Thunderbird application on your machine.
Step 2: Go to Tools and select the Add-ons and Themes option to proceed further
Note: After launching Thunderbird program, if the Tools menu does not appear on your screen then, press Alt button from your keyboard.
Step 3: In the Extensions tab, click on Settings button and then choose Install Add-On From File option
Step 4: Navigate towards the location where you have downloaded importexport add-on in Step (1). Select it and then click on Open button
Step 5: A Software Installation window will appear in front of you from which you have to click on Install Now button. This step will install import export add-on in Thunderbird application
Step 6: Click on Restart Now option to successfully install Add-on in your Thunderbird program
Step 7: Select Thunderbird emails, which you want to save in PDF format and then right-click on it to proceed further
Step 8: Choose Save selected messages > PDF Format option from current list of different file formats option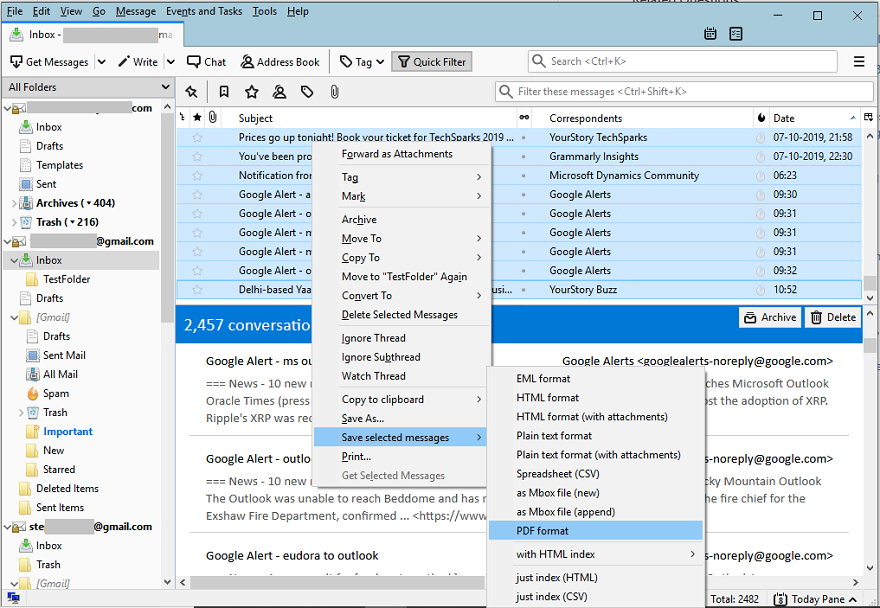 Step 9: Click on OK >> OK to terminate the warning dialog boxes
Step 10: Browse towards the location where you want to save PDF files and then click on Select Folder button
Step 11: Wait for a while and then go towards the location where you have saved resultant PDF files in step (10). Here you will find that all the selected Thunderbird emails are printed in PDF format without any complications
Drawbacks of the Free Manual Method
When you save Thunderbird email as PDF documents using the free add-on, it discards all the attachments during the process. This does not sit well with many users.
To overcome this drawback, we recommend using the Thunderbird Converter Wizard. It keeps your attachments and all email properties intact after the conversion process.
Observational Verdict
The best-suited approach to save Thunderbird email as PDF is to use Importexport add-on. This solution is free, easy, and quick way for printing mails in portable documents. By storing Thunderbird emails in PDF format, one can view Thunderbird emails on any device (like smartphones, android, etc), which supports PDF files.